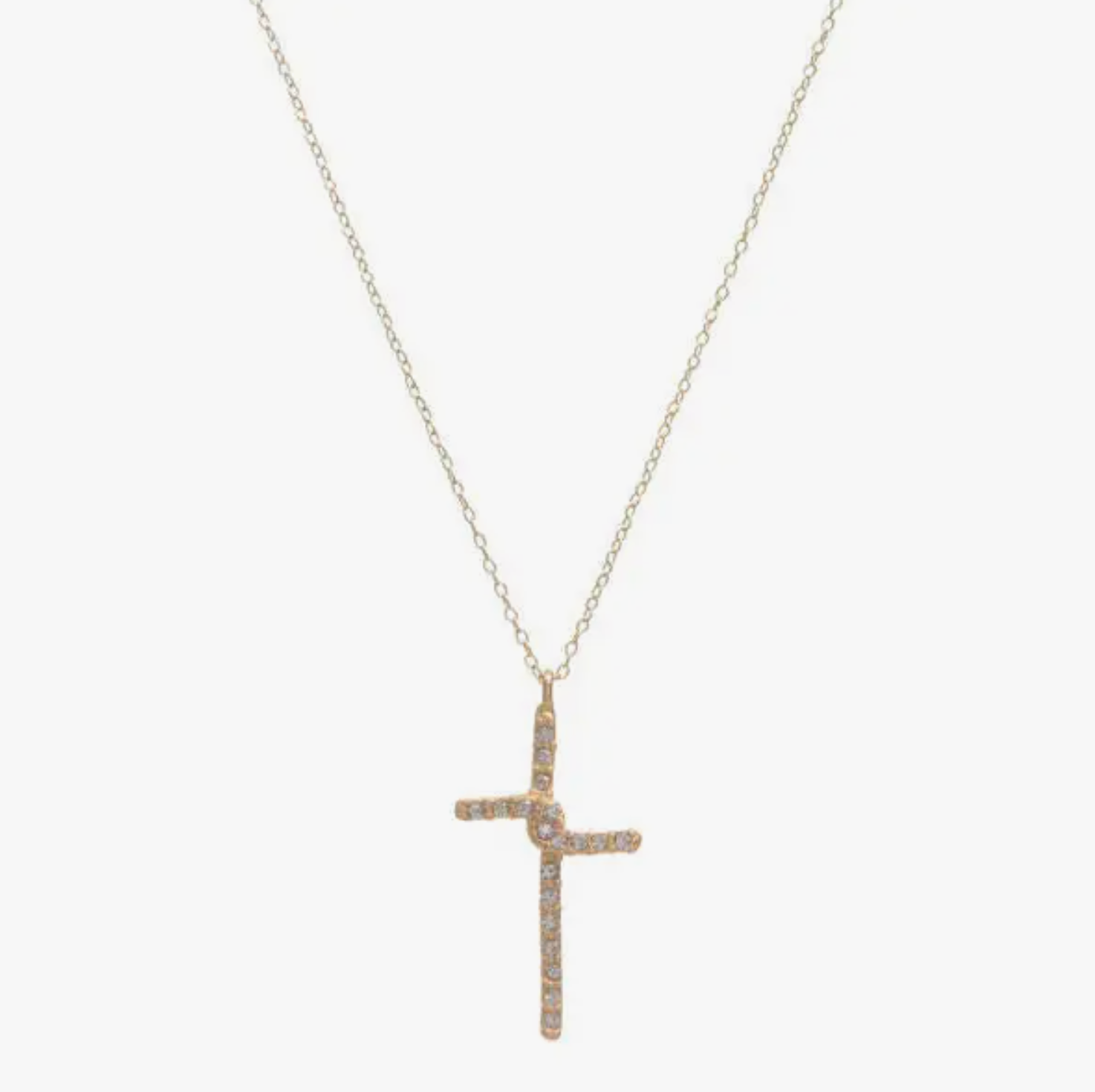 Small Interlocked Crystal Cross
Rebel small interlocked crystal cross necklace. 18K gold finish with black diamond crystals. 16" brass chain with lobster clasp closure. Handmade in New York.
Information About Black Diamonds 
Natural Black diamonds are somewhat different from most other diamonds in that they are entirely opaque. These stones are incredibly precious, absolutely beautiful, and considered quite valuable. Still, even with all the hype of black diamonds, these stones are more affordable than most other natural fancy colored diamonds.
Black diamonds, as well as Natural Fancy Black diamonds are real. However, the black color in the first group is not achieved naturally. It is the result of heating treatments. Natural Fancy Black Diamonds, on the other hand, are found in the rough with the same black color they display when they are bought. 
The color of black diamonds is believed to be caused by graphite. Black diamonds have a huge number of inclusions — small blemishes that affect a gemstone's appearance. This large number of inclusions is enough to change the color of black diamonds used in jewelry.
Small Interlocked Crystal Cross
Shipping
Order fulfillment at Swirl Works occurs Monday through Friday. (excluding U.S. federal holidays). We process orders within 3 - 5 business days.
Shipping rates are calculated at checkout based on weight, shipping address, and speed of delivery.
USPS Priority Mail - 1 to 3 business days
USPS First Class Package - 2 to 5 business days
UPS® Ground - 1 to 5 business days
UPS® Standard - 3 to 7 business days
-
Please double check your address details and that it is a secure location. We are not responsible for misdirected, lost, stolen, or delayed packages.
If this is a Gift Purchase, please notify us in the Order Notes so we may remove price labels, extra-lovingly package your item, and provide a personalized note!
Unfortunately, we do not offer international shipping at this time!
For more information, please visit our Shipping FAQ.
Pick Up in Store
You will receive an email once your order is ready for pick up! Pick up hours at our studio location are Tuesdays through Fridays from 12pm - 3pm. Please email marketing@swirlworks.com with any questions.
Returns & Exchanges
Online orders are eligible for return within 14 days of the purchase date.
In-store purchases are eligible for return within 7 days of the purchase date along with a receipt.
We cannot accept returns with any merchandise opened or damaged.
Refunds are only issued for returned items and do not include the cost for shipping.
Returns typically take 2-3 weeks to receive and process. Once we receive your return, we will process the refund.
Ineligible Returns: 
Gift Boxes, Gift Bundlings, Consignment Artworks, customized items and discounted sale items are final sale and cannot be returned or exchanged. 
If the original payment card has been canceled, expired, or was closed, a gift certificate will be issued to the original purchaser's email address. 
Gift recipients who have returned an item or reported an order problem can request a gift certificate or a refund back to the purchaser's original payment method only. We are unable to refund a gift receipt's payment card or issue a check refund to the gift recipient.
 Visit our Shipping FAQ to learn how to start your online return.
Please get in touch if you have any questions or concerns at marketing@swirlworks.com!