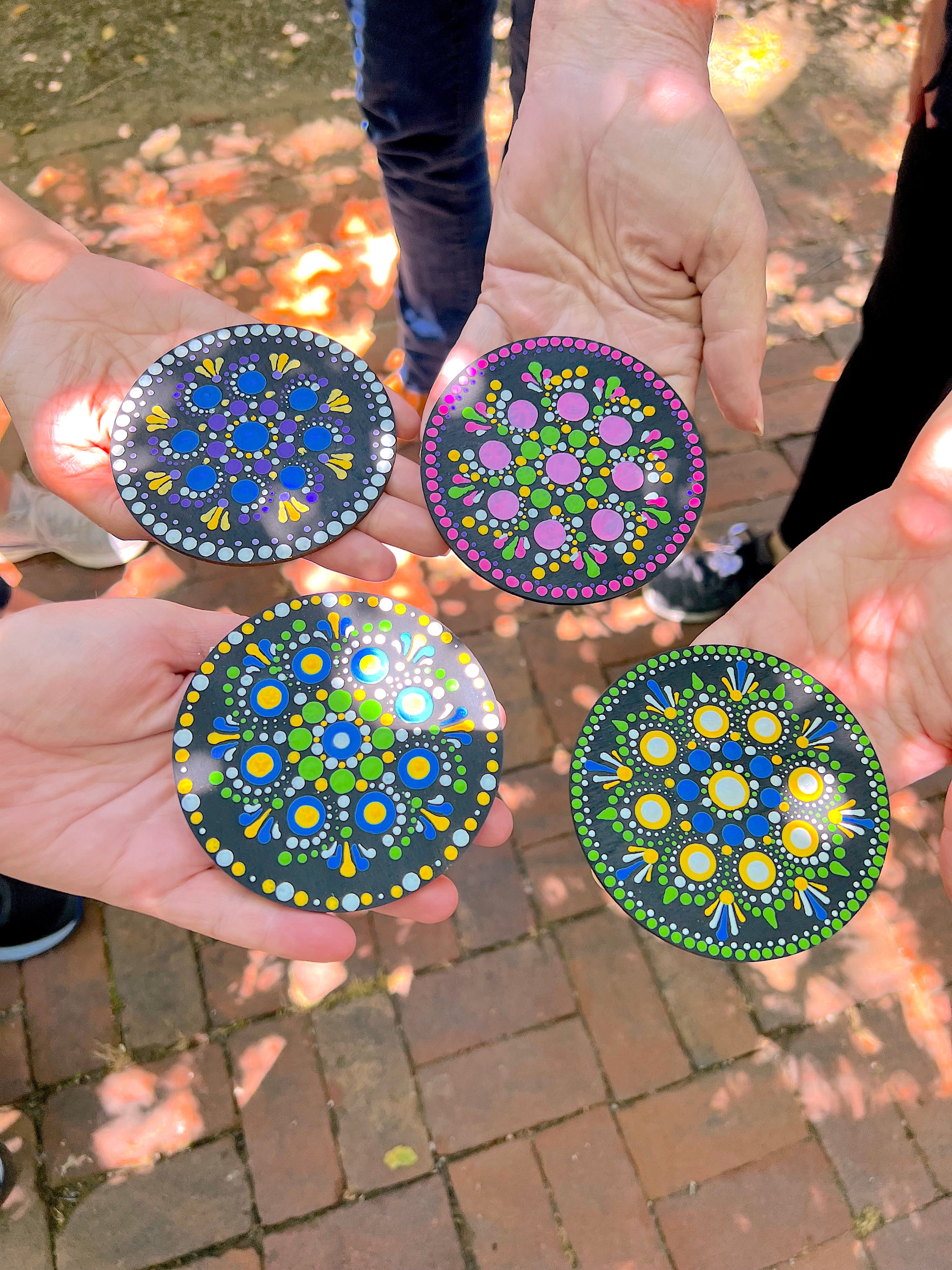 Team Building Dot Mandala Workshop on Thursday, October 5, 2023 10am - 11:30am
Description
Studio Policies
Cancellation
In this workshop, you will discover what makes an artwork a Dot Mandala, how it brings out our inner artist and why painting a Dot Mandala can increase peace and relaxation in our daily lives.
Up to 14 attendees.
All supplies will be included. No experience necessary! 
Covid-19
Following current Covid-19 protocols, masks are encouraged for all attendees including those who are fully vaccinated. This workshop will take place outdoors!

Arriving Late
Workshops start promptly at their scheduled time. Please prepare to arrive 10 minutes early to find parking and our studio location within Allied Arts Guild. In order to create an amazing experience for all scheduled guests, late attendees may be denied entrance. If you are running behind, please let us know at studio@swirlworks.com.
All workshop purchases are non-refundable.
Cancellations with less than 24 hours notice will not be refunded or credited. You are always welcome to gift your workshop to a friend!
Should we need to reschedule a workshop, we will notify you with the new date and time. If you are unable to attend the rescheduled session we will issue a full refund.
Team Building Dot Mandala Workshop on Thursday, October 5, 2023 10am - 11:30am
Health & Safety
Masks are encouraged for all attendees including those who are fully vaccinated. All workshops will take place outdoors!
With your help, we can enjoy creative workshops and shopping in the safest way possible! Our team members and guests are at the core of what we do, thus their health is of utmost importance! We are working diligently to keep up with the everchanging guidelines and recommendations put in place by the CDC in an effort to keep our staff and patrons safe, happy, and healthy as possible during this time. 
If our employees feel ill or have been exposed to someone who has tested positive for COVID-19, they are not permitted to come to work. All employees are required to wear masks throughout the duration of their shifts. We are sanitizing all high-traffic surfaces and tools between each workshop, and we have switched to single-use supplies where possible. 
Please notify us if you or any guest is feeling ill or has tested positive for COVID-19. We will honor a full refund in the form of workshop credit with proof of a positive covid test. Workshop credit is not valid on retail items and expires 12 months from original booking date.
Artist Highlight
Katherine Shariq
Katherine Shariq expresses her art using dot mandala techniques. She loves how this art form releases the hidden artist within to play with colors and create beautiful designs easily with little to no experience needed.
She loves how meditative and relaxing this art form is, releasing stress and anxiety. Painting dot mandala art is soothing and healing for the participants. It's a wonderful art form for relaxation, and a beautiful art form to learn and practice.