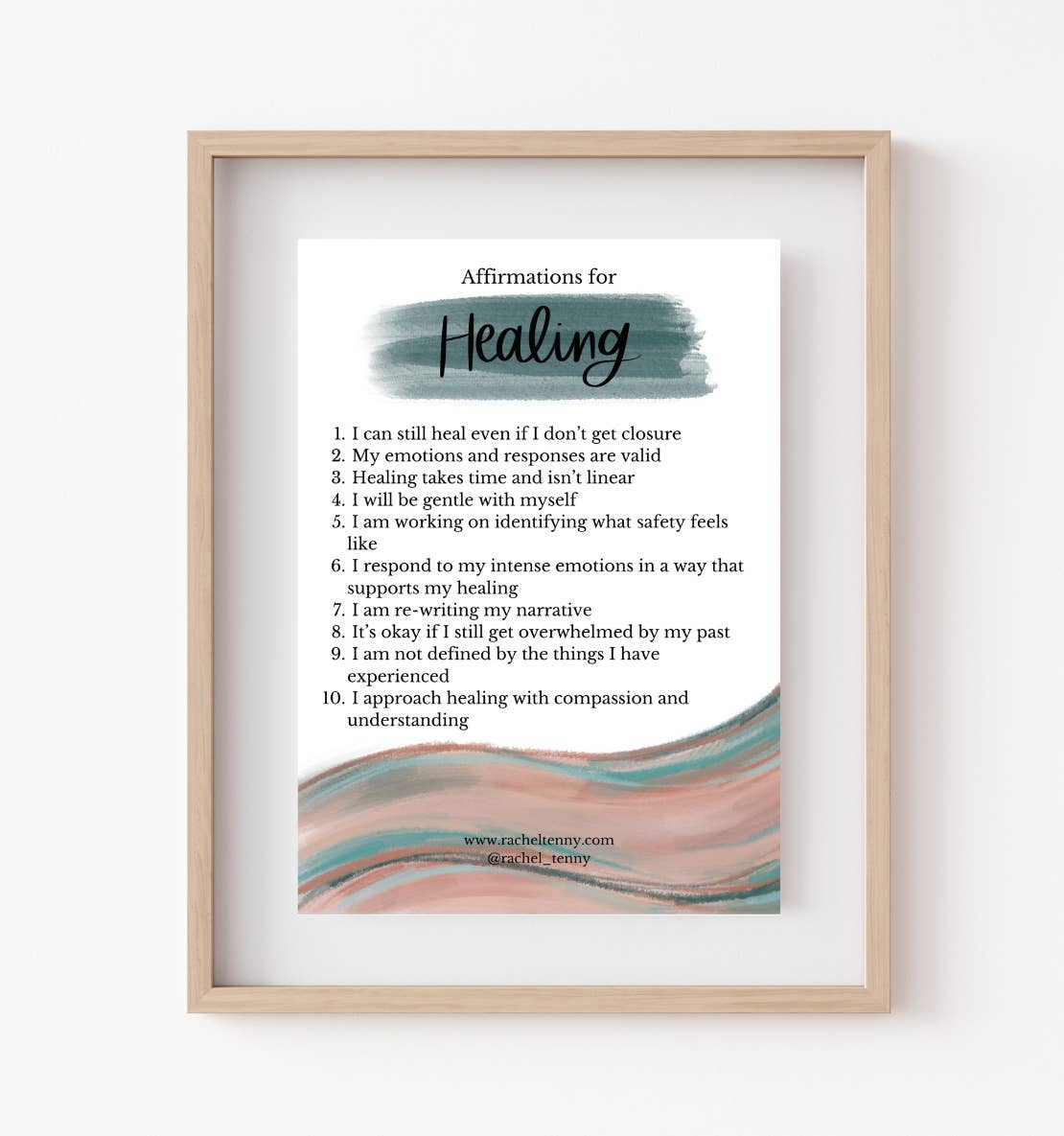 Affirmations for Healing Mini Print (Unframed)
Who is this for? This print is created for anyone who is on a healing journey. Healing can be long, painful, and require so much from us emotionally. These affirmations were designed to help encourage you and remind you that healing is possible.
Size: 5x7 print on Neenah Classic Crest Cover #100 paper (thick and beautiful!). Frame is not included. 
This set includes the following affirmations:
1. I can still heal even if I don't get closure
2. My emotions and responses are valid
3. Healing takes time and isn't linear
4. I will be gentle with myself
5. I am working on identifying what safety feels like
6. I respond to my intense emotions in a way that supports my healing
7. I am re-writing my narrative
8. It's okay if I still get overwhelmed by my past
9. I am not defined by the things I have experienced
10. I approach healing with compassion and understanding
Affirmations for Healing Mini Print (Unframed)
Shipping
Order fulfillment at Swirl Works occurs Monday through Friday. (excluding U.S. federal holidays). We process orders within 2 business days.
Shipping rates are calculated at checkout based on weight, shipping address, and speed of delivery.
USPS Priority Mail - 1 to 3 business days
USPS First Class Package - 2 to 5 business days
UPS® Ground - 1 to 5 business days
UPS® Standard - 3 to 7 business days
-
Please double check your address details and that it is a secure location. We are not responsible for misdirected, lost, stolen, or delayed packages.
If this is a Gift Purchase, please notify us in the Order Notes so we may remove price labels, extra-lovingly package your item, and provide a personalized note!
Unfortunately, we do not offer international shipping at this time!
For more information, please visit our Shipping FAQ.
Pick Up in Store
You will receive an email once your order is ready for pick up! Pick up hours at our studio location are Tuesdays through Saturdays from 11am - 3pm. Please email studio@swirlworks.com with any questions.
Returns & Exchanges
Online orders are eligible for return within 14 days of the purchase date.
In-store purchases are eligible for return within 7 days of the purchase date along with a receipt.
We cannot accept returns with any merchandise opened or damaged.
Refunds are only issued for returned items and do not include the cost for shipping.
Returns typically take 2-3 weeks to receive and process. Once we receive your return, we will process the refund.
Ineligible Returns: 
Gift Boxes, Gift Bundlings, Consignment Artworks, customized items and discounted sale items are final sale and cannot be returned or exchanged. 
If the original payment card has been canceled, expired, or was closed, a gift certificate will be issued to the original purchaser's email address. 
Gift recipients who have returned an item or reported an order problem can request a gift certificate or a refund back to the purchaser's original payment method only. We are unable to refund a gift receipt's payment card or issue a check refund to the gift recipient.
 Visit our Shipping FAQ to learn how to start your online return.
Please get in touch if you have any questions or concerns at studio@swirlworks.com!
Artisan Highlight
Rachel Tenny
"Hi, I'm Rachel!
My passions intersect on a daily basis and my main focuses are: empowering women to prioritize and focus on their mental health, working with individuals wanting to establish a healthy relationship with their bodies, and creating colorful artwork with meaningful messages. I fiercely believe in helping to support my clients (and each of you) find value outside of their appearance and achievements."