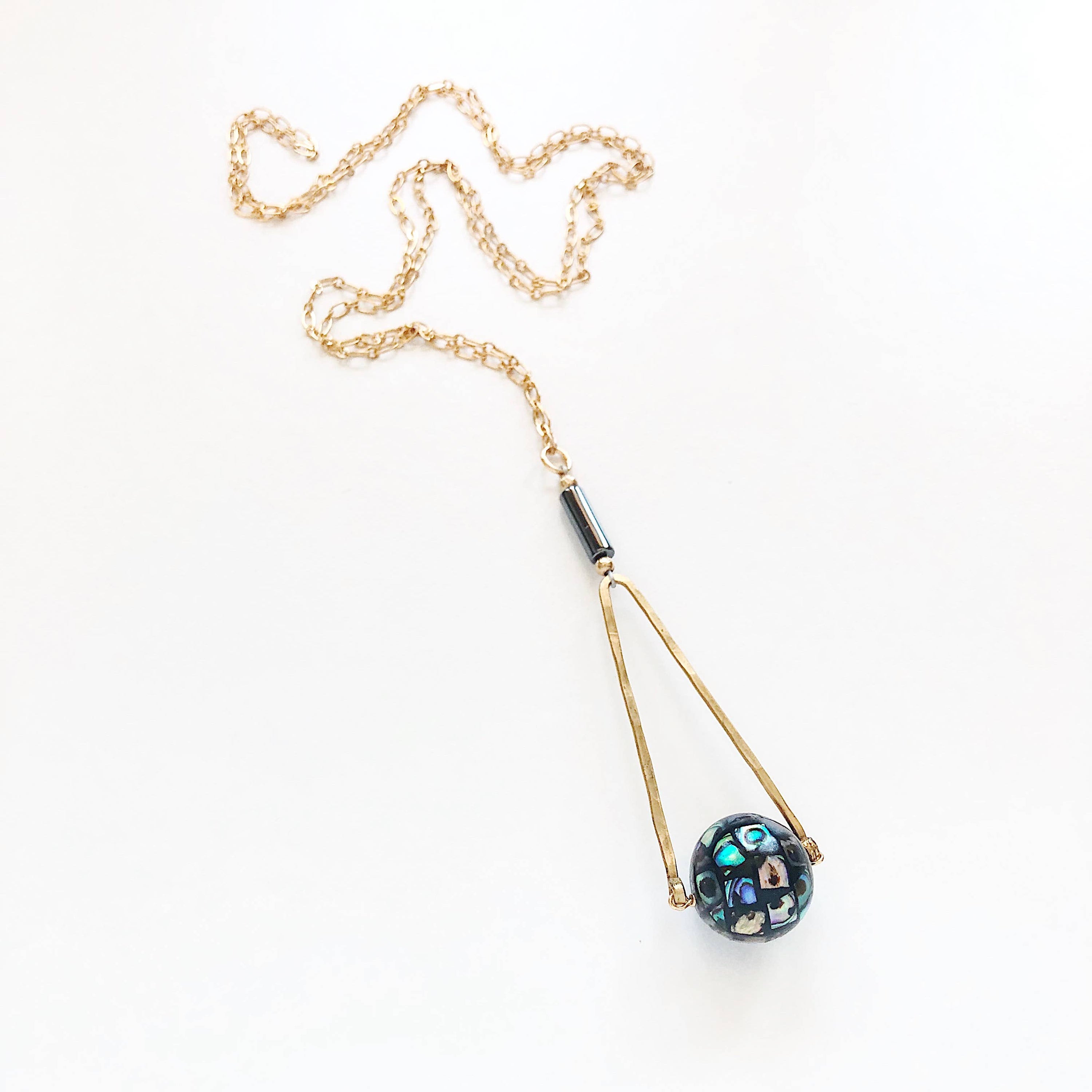 Abalone and Hematite Necklace
Description
Pick Up
Local Delivery
The Abalone and Hematite Necklace: a small Abalone "disco ball" met with a hand-hammered brass geometric shape, a single Hematite barrel and nickel-free gold plated chain create this minimalist but striking piece. Main colors; blues, greens and blacks with gold. DETAILS: ► Necklace measures 30". Stone design measures approximately 3" high and 1" wide. ► Please note that each handmade component and semiprecious stone is completely unique and markings/sizing/color will vary slightly in each piece. ►►► Jewelry containing raw brass components will darken somewhat over the course of time, but can clean up easily (if so desired) with vinegar or brass polish- be sure to keep any type of cleaning solution off of all semiprecious stone as the finish may be compromised. In an effort to avoid adding more unnecessary waste to our landfills, Third & Co. Studio opts to not include any retail packaging aside from the 1" square hangtag with product information.
Swirl Works is now offering quick and easy pick up in-store! We will send you an email once your order is ready for you. Pick up hours are Wednesdays through Saturdays from 11am to 2pm.
_
We do not offer shipping at this time. Please check back soon!
We are offering free no-contact local delivery! (Menlo Park, Palo Alto, Woodside, Atherton, Redwood City, Portola Valley, East Palo Alto).
-
Simply note you'd like local delivery and enter your phone number and delivery address if it differs from your billing address in the order notes at the cart screen! Orders will be delivered 2-3 days from purchase date.
-
We do not offer shipping at this time. Please check back with us soon! If you need to make changes to your order or have any questions, please contact studio@swirlworks.com.
Abalone and Hematite Necklace